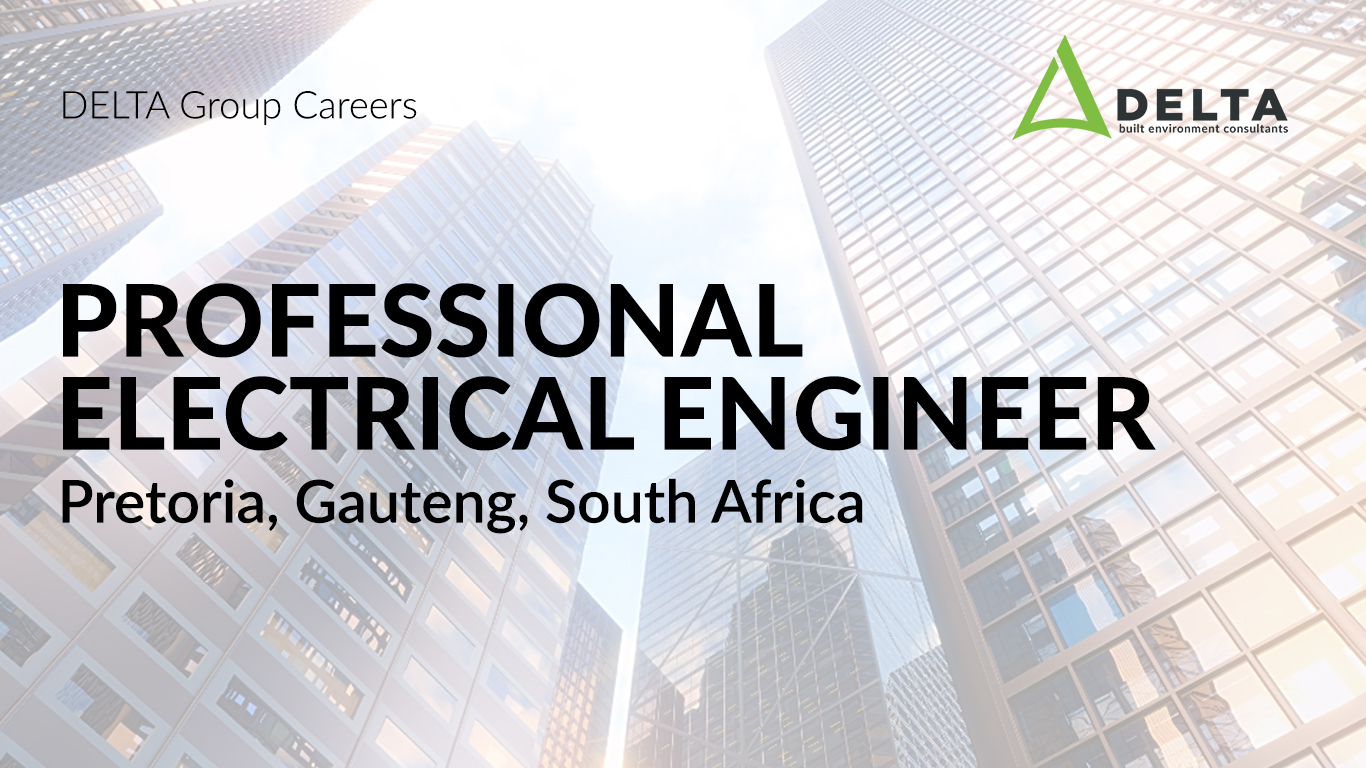 Professional Electrical Engineer – Delta BEC, Pretoria, South Africa
Please follow the link at the end of the description to apply. If you do not apply using the link you will not be considered.
Overview of Position
The head of department is responsible for all aspects of the management of the members of the department, projects, finance and businesses development. They should aim to inspire and to facilitate the best possible productivity in the section. The section leader is responsible for business development, resource management, client management, internal project reporting and administration, project finance, project planning, project control, project communication and development of standards and procedures relating to the specific section.
Work Activities and Responsibilities
As professional mechanical engineer in the electrical engineering department, the employee will be responsible for the following:
Business Development
Driving new business opportunities.
Compiling and submitting of bids, quotations and expressions of interest.
Resource Management
Determine project roles of team members based on project requirements, timeframes and budget.
When necessary, work with external consultants in addition to internal resources.
Define skill sets required for the project based on project specifications and requirements.
Determine resource requirements (including staffing, software, hardware, facilities and vehicles) of projects, based on project specifications.
Client Management
Continually seek opportunities to increase customer satisfaction and deepen client relationships.
Build a knowledge base of each client's business, organization and objectives.
Manage the client stakeholders, team members and contract personnel.
Manages day-to-day client interaction.
Set and manage client expectations.
Develop lasting relationships with client personnel that foster client ties.
Communicate effectively with clients to identify needs and evaluate alternative business solutions.
Internal Project Reporting and Administration
Oversee project quality, client and team satisfaction, and project success metrics during regularly scheduled and ad hoc project review meetings with project managers.
Track and report weekly metrics including percent complete, budget spend and duration to completion.
Keep an accurate risk tracking document with an associated mitigation plan.
Project Finance
Track and reports team hours and expenses on a weekly basis;
Manages project budget;
Accurately forecast revenue, profitability and margins;
Understand basic revenue models, profit/loss models and cost-to-completion projections and makes decisions accordingly;
Understand company pricing model and invoicing procedures;
Assure project legal documents are completed and signed;
Ensure timely and accurate invoicing and monitors deliverables for project;
Follow up with clients, when necessary, regarding unpaid invoices; and
Analyse project profitability, revenue and margins.
Project Planning
Establish and maintain a usable and well-communicated project programme for all phases of a project;
Explain implications of changes to project scope and/or objectives to the client and to the project team;
Lead the team to prioritize signed off work based on analysis of strategic importance and deadlines;
Create, or participate in the creation of, project documentation; and
Work with the client to ensure any changes are understood and approved.
Project Control
Manage clients request for changes in scope by revising scope and budget in a timely manner;
Evaluate all key project deliverables, as well as final product to ensure traceability of requirements, high quality and client acceptance;
Responsible for formal sign off on all project deliverables;
Ensure project meets internal and client expectations with respect to quality, budget, delivery timelines, and strategy;
Identify, track, manage and mitigate project risks.
Project Communication
Ensure clients' understanding of expectations, deliverables, dependencies, risks and progress;
If needed, create customized reporting for the client or team;
Work directly with clients to secure sign off on deliverables or documentation;
Ensure that stakeholders, including the team, client and management, are aware of project activities in a timely manner.
Communicate progress, risks, expectations, timelines, milestones and other key project metrics to clients and team members.
Standard Documentation
Prepare sector specific standard documentation and procedures.
Ensure team and output compliance with the sector and company standards and procedures.
Performing any other duties/activities reasonably related to the above functions which management may instruct from time to time.
Candidate Requirements
Candidate must have prior experience in the consulting engineering industry.
Candidate must be professionally registered at ECSA.
Candidate must have a B.Eng. or higher qualification.
If you are qualified for the position and you are interested please follow the link below to apply:
https://www.careers24.com/jobs/adverts/1792170-professional-mechanical-engineer-pretoria/
PS. If you do not use the link you will not be considered.